There are landscapes that you have to experience live to believe what you see in the photo. With these 10 mountains, nature drew from the full color pots and that in very different corners of the world. For artists and everyone who likes to be amazed.
Did you really think mountains are grey? Maybe white in winter? That is by far not all that the range of colors of the mountain formations of this earth has to offer. It can be almost cheesy and if you haven't seen it, it's hard to believe. Those who love nature and play of colors can choose from the following colorful wonders of the landscape.
Rainbow Mountains, Zhangye Danxia, ​​China
In case you're wondering if this is a Photoshop effect, no, that's what the Rainbow Mountains or Rainbow Mountains of China look like in real life. In the Zhangye Danxia National Park in northwest China, in the Gānsù region, about 40 kilometers from the city of Zhangye, rise these brightly striped formations, which are a UNESCO World Heritage Site. About 24 million years ago, different layers of sandstone and minerals lay on top of each other like a cream cake. Iron and trace elements, which were also deposited, formed the prerequisite for the various colors. The mountains were formed by a shifting of the tectonic plates and the colorful layers came to the fore. Only the geologists understand it correctly. But just travel there, let yourself be enchanted and shoot a new picture for your screen saver. Well-developed hiking trails run through the Zhangye Danxia National Park and lead you to good vantage points and platforms.
📆 Best travel time: June to September
💡Tip: Visit the Rainbow Mountains if it rained the day before, then the colors are particularly intense.
Vinicunca Rainbow Mountain, Peru
Now how do you explain to your kids that this isn't a giant lollipop? This mountain is in Peru, where it is called Vinicunca or Rainbow Mountain. However, the tour there is anything but easy and sugar-sweet. The ascent to 5200 m above sea level. located natural wonder requires good equipment and preparation. Try to find a guide who speaks your language. Make sure the weather is suitable for the climb. Since the rainbow colors were covered with snow until a few years ago and only came to light as a result of global warming, the region was not prepared for the sudden rush of tourists. Therefore it is you who must prepare. The weather in the Andes is unpredictable, the onion look inevitable, hat and scarf included. If you run out of strength, you will see locals at various points waiting with horses to take you up there for a few dollars.
📆 Best travel time: June to August
💡 Tip: Book a guide who will pick you up in Cusco with his vehicle at 2:30 a.m. so that you are at the starting point by 5:30 a.m. This will get you away from the crowds of tourists.
Landmannalaugar, Iceland
In the heart of Iceland, in the Fjallabak Nature Reserve, about 3 hours drive from Reykjavík, is the geothermal oasis of Landmannalaugar. The volcano with the sonorous name Torfajökull formed this area through its eruptions. Now it is covered by a glacier and right here is the second largest geothermal area in Iceland. The hot springs and geothermal baths at Landmannalaugar testify to the high level of geothermal activity in this region. Here you will find numerous opportunities to relax in the warm water. Landmannalaugar doesn't mean bath of the people by accident. But the real highlight here are the colors of the mountains. They are mainly made of the volcanic rock rhyolite. There is also sulfur and iron. This results in shades of brown, yellow, pink, red and blue. The two most attractive mountains are called Brennisteinsalda, in English Sulfur Wave, and Bláhnúkur, Blue Peaks. Although they are very different, they are close to each other.
📆 Best travel time: June to August, because then you can drive yourself and the colors are most intense.
💡 Tip: Visit Grænagil Canyon, its walls are surreally green, the views are gorgeous and the hike is easy. Also suitable for families!
Artist Palette, Death Valley National Park, California, USA
Even the wind is hot in Death Valley! In the beginning it is certainly great to have this hair dryer around all the time. But at the latest at night you will have to cool down. So Death Valley is not for people who can't handle the heat. But if you can do that, it's worth branching off onto Artist's Drive from Devil's Golf Course. The paved side road describes a circuit along which you can admire a colorful hilly landscape, which is rightly called Artist's Palette. Thanks to iron, ores and various minerals exposed to wind and weather, a remarkable variety of colors has emerged here in the dusty nothingness. Almost as if nature wanted to replace the flowers. The closest airport to Death Valley is in Las Vegas.
📆 Best travel time: April, May and September, October (not too hot)
💡 Tip: Be sure to fill up before Death Valley, because you pay almost twice as much at the only gas station in Furnace Creek.
Polychrome Mountains, Alaska
Not quite as garish, but still beautiful red and yellow tones can be found in Alaska in the Polychrome Mountains. You are in Denali National Park. This is named after the highest mountain in North America, the 6190 meter high Denali, also known as Mount McKinley. Since 2015, the mountain has officially borne its original name Denali – the high one – as the natives always called it. You have a great view of Denali from Polychrome Pass. There you can also marvel at Alaskan snow sheep with impressive headdresses. Speaking of headdresses: In Denali National Park you can watch moose live. You will remember the calm with which they move and the beauty of their antlers. In addition, you have a great chance of spotting a real grizzly or seeing the northern lights. The nearest airport is in Fairbanks.
📆 Best travel time: June to August, relatively cool with a maximum temperature of 15° Celsius in July, but hardly any precipitation
💡 Tip: If you travel there in August, you have a good chance of seeing the Northern Lights.
The Colored Mountains of Tabriz, Iran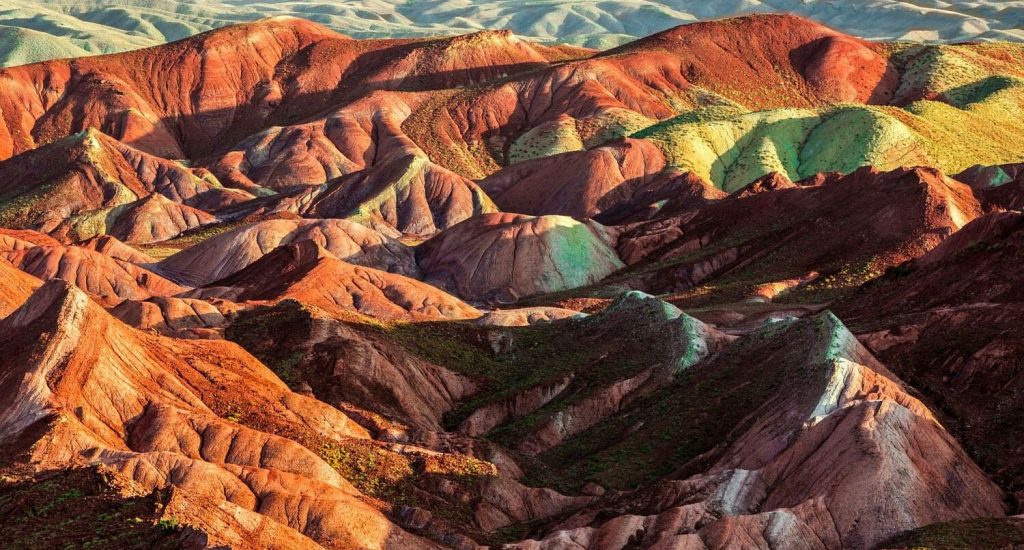 These spectacular mountains are located in Iran. A travel destination for everyone who loves untouched nature. The colorful mountain landscape extends behind Tabriz. Many raw materials are mined in this region, the mineral diversity of which appears as a blaze of color on the surface. That is why one speaks of the colored mountains of Tabriz. If you are in Iran for the first time, it is best to spend a few days in Tabriz for acclimatization and orientation in Iranian culture. First make small excursions in the city, for example visit the Blue Mosque with its colorful murals. And it is worth hiring a guide. Many of them have a great deal of knowledge, many ideas of what else is worth seeing and are very hospitable and talkative. You don't have to look for the guides, they will find you as soon as you are in Tabriz. Decides on sympathy, gut feeling and language skills.
📆 Best travel time: May to September, as there are warm temperatures and hardly any precipitation.
💡 Tip: The headscarf is a must for women, but otherwise you don't have to wave yourselves in hippie flags, the young Iranian women are fashion-conscious.
Quebrada de Humahuaca, Argentina
The Quebrada de Humahuaca is a canyon in the Jujuy Province of northwestern Argentina. Along the Ruta Nacional No. 9 you get to the village of Humahuaca at around 3000 m above sea level. On the way there you will be amazed by the bright red sandstone, which is even more accentuated by the neighboring black rock. The highlight is the mountain at the foot of the settlement of Purmamarca, called the Cerro de los Siete Colores, in English: mountain of the 7 colors. Its slopes are colored yellow, turquoise, white, red, blue, orange and purple. Overnight accommodation is available in Purmamarca, so you can also enjoy the Seven Colored Mountain at sunrise. It is also worth staying in the village of Humahuaca. It was built in the colonial style at the end of the 16th century. A lively weekly market takes place in the large square, where you can admire valuable tapestries and buy cactus wood carvings as souvenirs.
📆 Best travel time: from October to mid-December (spring/ early summer) and from April to mid-June (autumn/ early winter)
💡 Tip: Explore the area by rental car, buses are overcrowded and only stop in the towns of Tilcara, Purmamarca and Humahuaca.
Vermilion Cliffs, Arizona, United States
The Vermilion Cliffs National Monument covers almost 1,200 square kilometers in northern Arizona. The protected area primarily includes the Paria Plateau, a plateau at the edges of which the actual cliffs, the Vermillon Cliffs, can be found. It is named after the mineral vermilion, whose cinnabar red is responsible for some of the color effects. But not only the cliffs are colorfully striped, also hills, mountains and canyons are so colorful that it almost seems kitschy. The hike to The Wave is recommended. As you move in this red and orange striped canyon, you feel like a tiny creature that has just been devoured by a monster and is moving through its organs. The Wave is completely apart from anything earthly. The day tour through the desert with no apparent path is worth it. The nearest airport is in Las Vegas.
Note: The nature reserve has a limited access system; Make sure you get a permit early on, because there is no infrastructure inside the area, but there are real dangers such as loose rocks or sudden torrents in the canyons.
📆 Best travel time: March to November, warm, hardly any precipitation with a maximum temperature of 38°C in June.
💡 Tip: for The Wave: pack lots of beef jerky (dried meat) and water in your backpack; start hiking early, plan time for the way back
The mountains of Ladakh, India
Ladakh is also called Little Tibet. It is located in the Indian state of Jammu and Kashmir. You will not have seen the colors of this barren high mountain landscape anywhere else in the world. Because Ladakh is a gigantic masterpiece in pastel tones. Blots of paint or brushstrokes in light green, violet blue or soft pink stretch across the rocks and mountains. You can enjoy this landscape from the comfort of your car. If you want to experience nature up close and are fit enough, you can go trekking. Prepare meticulously, get good advice on equipment, train in advance, talk to people who have already done it and find out about the difficulty levels of the various routes, for example here.
📆 Best travel time: May to September, pleasant temperatures, hardly any precipitation with a maximum temperature of 26°C in July.
💡 Tip: Treat yourself to a 1.5 hour flight to get from Delhi to Leh and thus Ladakh. Flying over the peaks of the Himalayas is spectacular.
Candy Cane Mountains, Azerbaijan
In the northeast of Azerbaijan lies the mountainous region of Khizi, 70 kilometers from the capital Baku. Khizi is famous for its mesmerizing nature, sometimes it is also called the edge of the red mountains. The main attraction are the Candy Cane Mountains. In fact, the white and red striped mountains are reminiscent of lollipops. The colors are caused by the effect of groundwater on the iron content in the rock. The road is paved but hardly used. You can admire the landscape from the comfort of your car or – a little less comfortable but more intense – from the saddle of a bicycle. You can find belemnite fossils all over the hills. These were small creatures with 10 tentacles that lived between 358 and 66 million years ago. Their fossils indicate that there was a river delta near the Candy Cane Mountains in prehistoric times.
📆 Best travel time: May to September, warm, hardly any rain with a maximum temperature of 30°C in July.
💡 Tip: Visit the nearby Altiagac National Park. There you can admire brown and raccoons, wolves, pheasants and desert eagles.